Becoming a mum is probably the hardest time for a woman in the fashion stakes. The world of high heels gets pushed aside for practicality and comfort, and you can end up in a style no man's land, where leggings and baggy tops take over!
We think that mums deserve to look and feel their best and, with some savvy shopping, it's not too hard to put together outfits that combine high fashion with kid friendly practicality, whether you're out on date night or doing the school run.
We've worked with the Express and Star Weekend Magazine to put together some great looks for mums from New Square's stores including, Primark, Outfit Fashion, River Island, Next and Peacocks. You can pick up your copy of weekend magazine on Saturday 23 March, but in the meantime here's a sneak peak, as well as some style tips from our amazing models!
Katie
(Grace 14 and stepdaughter Frankie 11):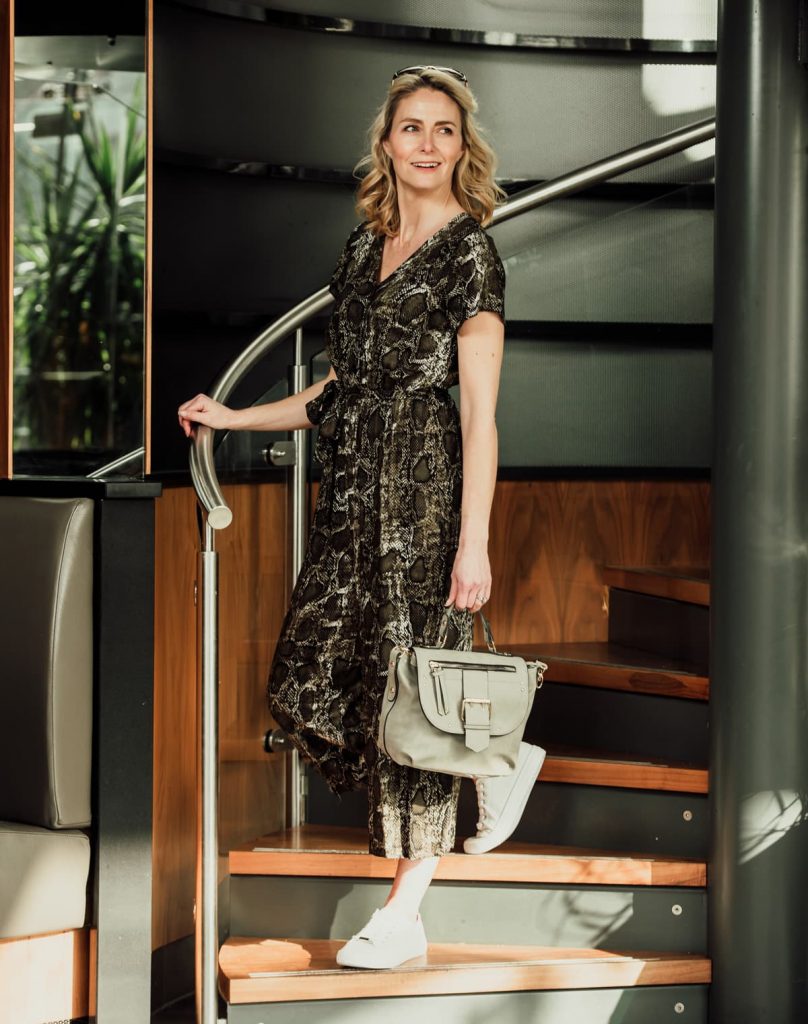 Katie's outfit from Peacocks is perfect for a weekend day out with the family.  Jumpsuit £22, Mock croc trainers £10, Grey bag £16
What's the best thing about being a mum?
Seeing them grow to be a unique person. Every stage of their lives brings something different. There is a sadness of losing your cute, little child but also an amazing, proud feeling at watching them become an independent individual with their own personality.
What are your top fashion tips for spending time with the family?
I am a casual dresser most of the time, so I have several pairs of jeans in different colours and styles. I also love the current sporty look – smart joggers with big knits and pumps. We love to dance in our house, so you always have to be suitably dressed and ready to jump up and do high kicks!
What top tip would you give to other mums?
None of us are perfect and no one has it all together all of the time (even if they appear to!) We will have good days when everything seems to go right and we will have some terrible days when we will feel like we don't have a clue about what we are doing or how we're going to juggle everything we are supposed to. Be honest and talk to others. Ask for help when you need to. Definitely don't beat yourself up about it. Enjoy the good and ride through the bad. We're all just winging it really!
Josie
(Emily 3 and Phoebe 1):

Josie's outfit is from Outfit Fashion and ideal for the school run! Topshop Dungaree dress £36, Topshop Animal print shirt £35, Topshop Cross body bag £25, Miss Selfridge Tan gladiator sandals £39
What's the best thing about being a mum?
That sudden overwhelming feeling of selfless love for someone you have only just met!
What are your top fashion tips for spending time with the family?
Baggy top that I can feast feed in, a colour that doesn't show up stains dribble, snot etc
What top tip would you give to other mums?
Mum of 1: cherish every moment, relax with them your arms, gaze into their eyes, stroke their hair kiss their cheeks whilst they can't wriggle away! Don't compare yourself!

Mum of 2: forgive yourself for not being the mum of 1 to the mum of 2, lower your expectations and be kind to yourself.